How to Choose the Right Type of Massage Chair?
With the resumption of work, back pain workers on the massage chair demand is also gradually rising. How to buy a massage chair, and which pits should we avoid? I've put together a few key points for your reference..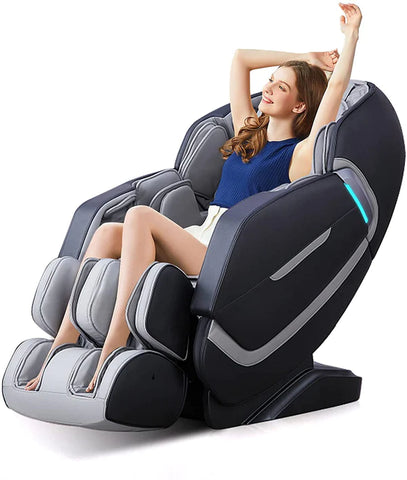 Brand Selection
Choosing a good massage chair brand can save you a lot of energy to deal with after-sales problems. On the contrary, it is easy to get stuck in the pit.
So, how should we screen massage chair brands?
The value of any product = brand premium + practical value of the product.
Buy a massage chair, and you must start from your own point of view, such as your budget of 4w+. I think this price, no matter which brand of massage chair out of the massage effect is not too bad. But if your budget is only below 1w, when you buy, you should focus on comparing the cost performance of different brands of massage chairs.
When you do not know what to buy, buying a big brand is a relatively reliable choice while the other is the pursuit of word-of-mouth on the market, high appearance level, very cost-effective brand, like ASJMREYE.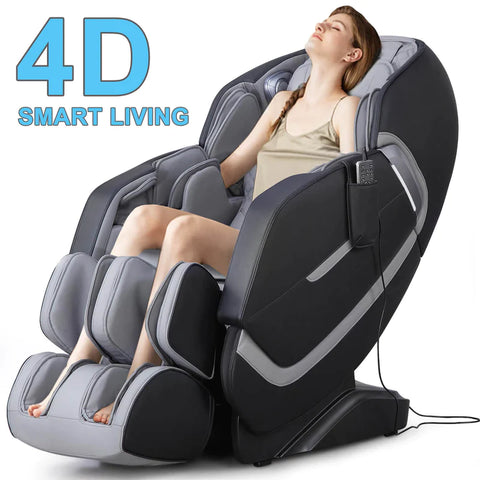 2.Quality
Massage chair quality is mainly reflected in: movement, guide rail, air bag, and leather. So how should these points be selected? Look at these tips as follows: 
Generally look at the detailed product specification, see which motor compound degree(the so-called 1D, 2D, 3D movement) does it have.
1D movement, which is a massage chair you're only guaranteed to use about ten times. After that, you will experience the unpleasant feeling.
2D movement can realize kneading, tapping, shiatsu, knocking, and rolling effects. But the basic action is just on the plane, not well fitting the curve of the human back. In this case, massage will be blunt.
3D movement can be adjusted up and down, left and right, front and back. The movement is realized by a telescopic motor and such movement is three-dimensional, so that it can fit the curve of the human back. In this way, massage will be more deeply.
4D movement is an upgraded version of 3d movement, which is more user-friendly.
There are four kinds of guide rail: straight guide rail, S guide rail, L guide rail and SL guide rail.
Straight guide rail is stiff, so it is not recommended to choose. S guide rail can go deep into the spine back curve while L guide rail can grow to the waist hips. As for SL guide rail, it extends comprehensively from neck directly into the bottom of the hip.
Therefore, it is the best to choose SL guide rail considering the longer of guide rail and the wider the coverage area if you have a certain budget.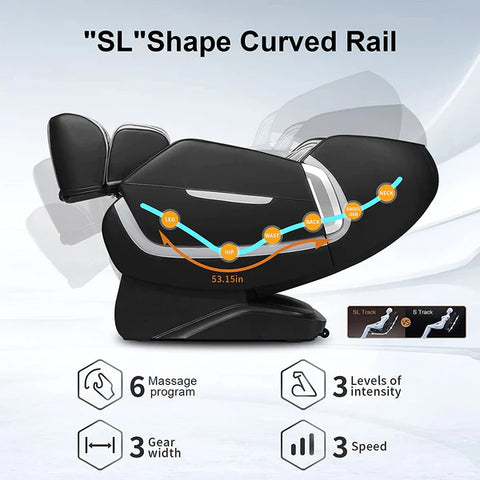 The scope that the manipulator can massage is limited to the place that the guide rail can reach. The rest of the body can be massaged by squeezing the air bag (inflation-deflation-re-inflating). The number of air bags, size, distribution position will be different according to various brands and quality massage chairs. Now many consumers on the merits of the airbag is completely determined by the number of airbags. In fact, this goes into the wrong area that more air bags are always better.
The number and size of air sacs are different in different places. For example, in the hips and waist, we have larger muscle groups, which requires a small number of large air sacs. Also, large muscle groups need some pressure to massage into place. Small air bags can produce limited maximum pressure, so it can not complete the purpose of massaging large muscle groups. 
Asjmreye 4D massage chair has 24 airbags, which located at the shoulders, arms, pelvis and feet, and the calf areas, offering a full body air compression massage experience and increasing blood circulation throughout the body to relieve pain and tension.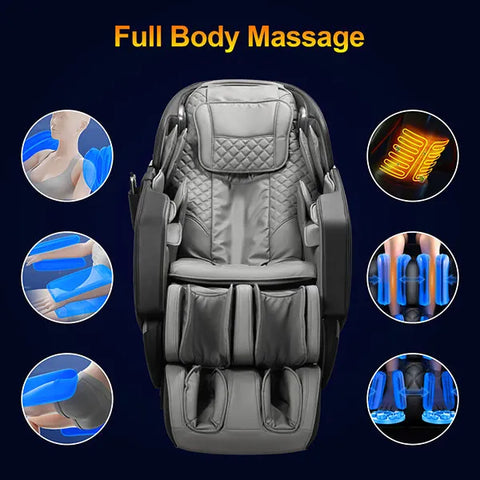 Massage chairs rarely use dermis, because dermis elongation is too poor and after repeated stretching, it is easy to wrinkle, crack!
Massage chairs are commonly used in PU leather, which has good waterproof performance, good softness and air permeability, but the quality is different, and the inferior PU leather is easy to crack.
If you want to avoid the thunder, you can choose EPU or microfiber PU leather, which may be more wear and scratch resistant. High-end massage chairs usually use this kind of leather.
In a word, it is helpful for back pain workers to choose a good massage chair. It is also worth recommending a number of electric massage chair brands, such as Rongtai, Haier, Ogawa, etc.. But Asjmreye 4D Massage Chair enjoys a good reputation in the US. With advanced 4D technology and ergonomic SL-track design, with 24 Airbags of Squeeze Massage and Intelligent Massage Hands, making you enjoy a personal massage from the head to the leg. It is equipped with 6 types of automatic massage programs, 3 levels of massage speed adjustment, and 3 levels of massage intensity adjustment. Customize the most suitable massage program for you according to different body types and requirements. This massage chair is 100% tested for performance and reliability before shipping and is guaranteed and protected with a 5-year warranty.
 https://asjmreye.com/products/asjmreye-4d-zero-gravity-massage-chair