Lift recliner chair is popular among the market, which is not only suitable for workers, but also the elderly. We should treat ourselves better as well as our family.
A gift for yourself?
Lift chairs are recliners with the added feature of standing you up. They lift you up as well as recline you back. Of course, it has extra feature. The lift chair is still a fully featured recliner with options like zero-gravity and heated head/lumbar, which can help you enjoy life at ease.
A gift for Mom or Dad?
You can buy the recliner as a present for your family that is fit for their health. If it is going to be a surprise, make sure you know their height and weight, so we can select the right size for their body. In addition, carefully consider the other pieces in their living room or bedroom, where the chair is going. This is a piece of furniture, after all, so let's make sure it fits in.
What are you buying?
A good-quality lift recliner from a full-service business. We will service the chair if anything goes wrong. We can also deliver the chair for free to your home, or your parents' home. There is a comprehensive warranty offered lift recliner chairs.
Different from the traditional one, the Asjmreye infinite power lift recliner is powered by two OKIN dual motors that can operate independently to provide an infinite range of positioning options. It can push the entire chair up to help seniors to stand up easily, and it's ideal for people who have leg/back problems or people who are after surgery. In addition, the backrest and the footrest can be seperately operated from 90° to 180°. So you can recline to almost level or any degree above that (with or without raising the footrest), and the seat lift―which can be raised and lowered to any desired degree―is an outstanding feature. Extending the footrest and reclining feature allow you to fully stretch and relax, like reading, sleeping, watching TV and so on.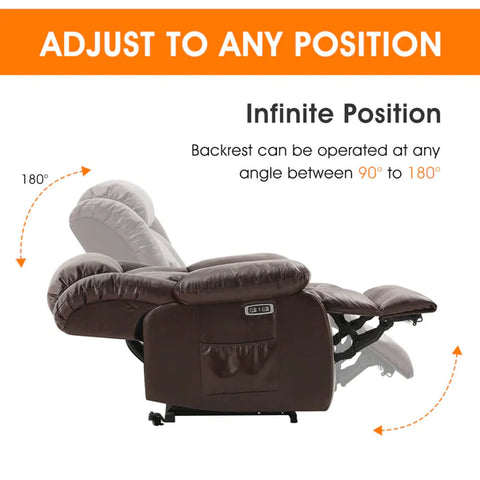 The Asjmreye luxury power lift recliner is made of microfiber leather which is soft, breathable and wear resistant. The backrest, seat cushion and armrests are filled with high-density sponge, which provides you ultimate comfort and support, just like the whole body is wrapped up in chair. The microfiber leather is soft to the touch, durable, which is functional for optimal comfort. It has backup to support you.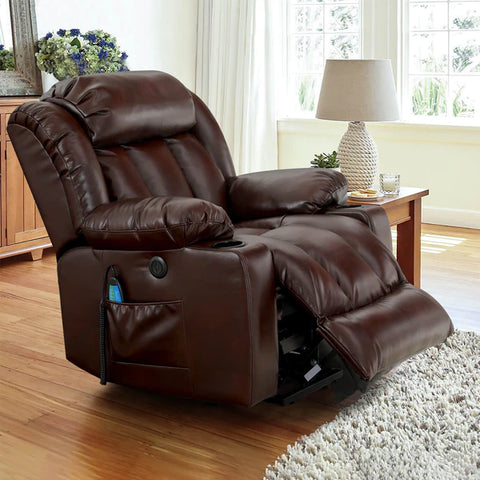 The Asjmreye 3-position power lift recliner chair with massage and lumbar heat has been rated front row by customers. Designed perfect for 5'1"-5'9" users, it features a deep, wide seat and comes standard with a heavy-duty steel base. The German okin motor will control the recliner lift and recline, helping you stand up or recline easily. It can use the 3 in 1 controller to activate optional heat and massage with 5 modes.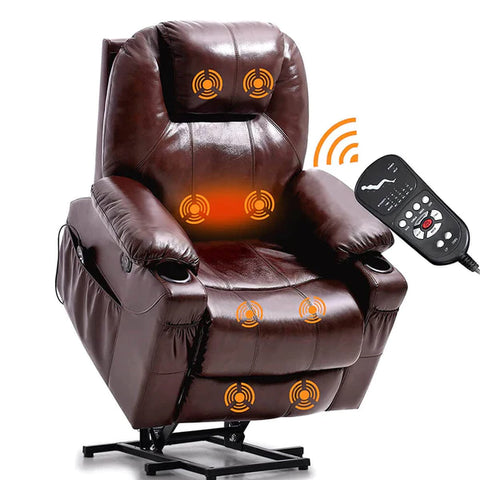 How can you contact us?
We are here 5 pm to 2 am, PST , Monday through Friday. Call ahead (213) 933 4058 if you want a head's up on what is available. Or send us an email Service@asjmreye.com and we can answer what you want to know about.
Shop early for the best selection.