Description
🔥🔥💥The Best-Selling ASJMREYE Mini Chainsaw every day!


⭐⭐⭐👉"Our goal is to create a reasonably priced mini chainsaw, because we believe that everyone should be able to use it to mow the garden-including the elderly, women and children over 12 years old."

☎️📧If you have any dissatisfaction, our customer support service is online 24/7.

💥💥ASJMREYE Hot Products in 2021!

🧰👨‍🔧5-year warranty
✈️🚀After confirming the address information after payment, the goods will be shipped worldwide within 48 hours.
After-sales service >> No reason to return within 60 days
Features:

⚡Automatic lubrication: The fuel injection system is highly lubricated, reduces resistance friction, greatly extends the life of the guide chain, and cuts smoothly

⚡Safety innovation: thicker baffle protection to ensure cutting safety and prevent flying objects and chains from hurting hands

⚡High power: 72000W high power, it only takes 15 seconds to cut a 50cm tree
⚡Anti-burning machine: high-power, low-loss, 72-hour load without burning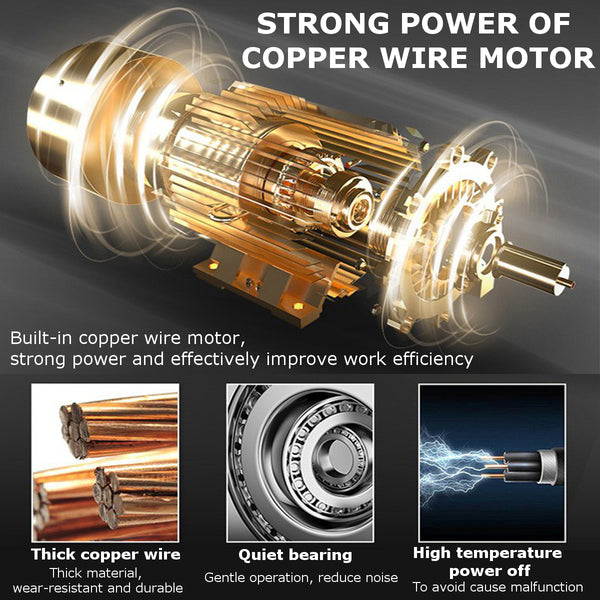 ⚡Long battery life: Dual lithium batteries are powered at the same time, and it can saw a truck of wood at a time.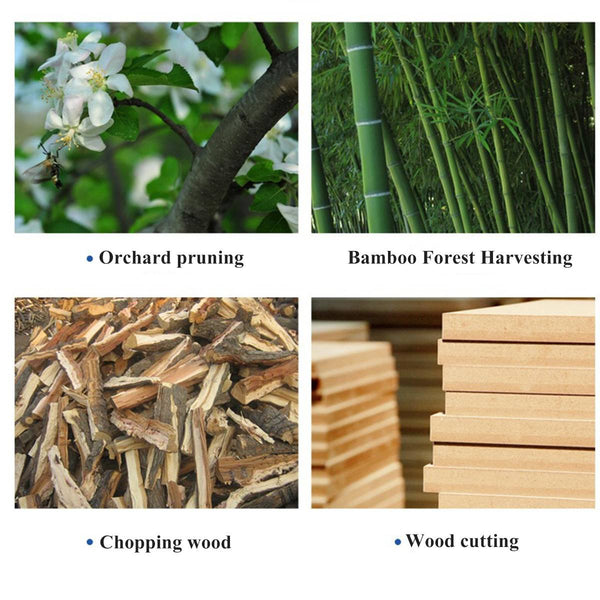 ⚡Quick charge: German fast charge charger can be fully charged in 2 hours
⚡Lightweight: Lightweight design of the machine, not tired after long hours of work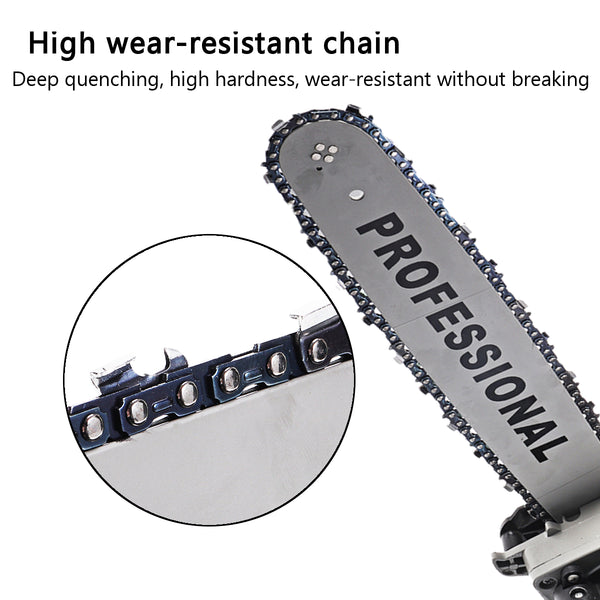 ⚡Don't drop the chain: Upgrade the thickened adjuster design to adjust the chain forcefully without dropping the chain

⚡Dual grip: non-slip grip + auxiliary grip, stable and efficient cutting effortlessly
Specification:

Name:16 Inch Electric Chain Saw

Fit for:18V/21V Makita battery

Color:Black, Red

Chain Material:High Carbon Steel

Output power:3850W

Rotating Speed:720r/min

Speed:8m/s

Fuel injection system:Semi-automatic injection

Cutting diameter:500mm

Chain adjustment:Rotate button adjustment

Guide size:16inch
Package Included

1 x Electric Chain Saw

1 x Guide Plate

1 x Chain

1 x Screwdriver

1 x Wrench

2 x Battery
Shipping Service
Shipping Costs & Sales TAX
Free Standard Shipping on all items.

Shipping Location
1. We delivery to Worldwide
2. P.O. Box or APO/FPO/DPO and International delivery is not available now.
Please Attention ! ! !
Since The Product Comes With Lithium Batteries, It Is Classified As Dangerous Goods Transportation According To The Transportation Company's Regulations.

Therefore, The Transportation Is Relatively Slow To Ensure The Safe Delivery Of The Goods To Every Customer.

Shipping Estimates & Notification
1. Ship in-stock orders usually within 2-3 business days you placed them.
2.Shipping time:
U.S. : 5 -8 working days (UPS)
Worldwide(Except America): 10-18 working days (Standard shipping)
3. Tracking numbers will automatically be emailed to customers once the order is shipped..

For any other questions, please contact us via Service@asjmreye.com.
Complete shipping policy check the bottom menu
Payment & Security
Your payment information is processed securely. We do not store credit card details nor have access to your credit card information.
Great choice for homeowners to professionals
This is an outstanding product and would meet the needs of homeowners, professional landscapers, and also be a useful addition for professional orchardists. Highly recommended but buy extra batteries if you want to cut for several hours.
I grew up on a walnut orchard with 4000 trees to prune and 10% to cut down and replace each year for several years. We had several of different sizes for pruning and cutting down 40 to 80 year old walnut trees. That's my background and when I recently returned from overseas and bought 25 acres of hardwood forest, I had to carefully consider what garden and forestry equipment to buy. I did a lot of research and very hesitantly took the big risk and went all in with ASJMREYE and bought this chainsaw and pole saw. When I was younger I didn't mind maintaining and rebuilding a bunch of small gas engines but I have no desire to any more so that weighed heavily on my decision. It's been four months now and I'm really happy and impressed with this line of garden tools. I'm especially impressed with this chainsaw. In these last four months I've been clearing about two acres of my hardwoods and have cut down probably 300 or so trees. Most were small (6-10" diameter) but I've cut down maybe 30 big ones including a couple that were 20" or so. This saw has really performed well so far and has plenty of power as long as you're a little more patient and slow than with a gas saw. The pros of not having to breath in the fumes, maintain the engine each year, deal with the extra weight, and lug around gasoline mix entirely outweighs the only disadvantages of slightly less power, needing extra batteries, and not having the cool noise of a gas chainsaw running. My recommendation from a lot of experience is that this saw ought to be the choice of any homeowner, pro landscaper, small farmer, and be an addition to the saws a professional orchardist or forester has. If I were back working my dad's walnut orchard, this would be my go-to saw for all the annual pruning and augment our husky's dropping those giant old walnuts.
Finally....a real cordless chainsaw....stands up to years of daily use.
I especially like this saw because it is quiet....plus it works all the time. I live in a ranch community and people are living here to get away from noise. This saw allows me to collect fire wood in places where I would othewise be disturbing the tranquility of the community. I am stunned at the battery life, and how quickly it can be recharged. By the time the battery runs down, I am run down as well. And ready for a break. Toss in another battery and your good to go. other thing I like are the safety features. The saw is light and easy to handle and this really helps reduce stress. The chain brake works well. The other thing I really like is the ability to adjust the chain without needing tools. Just make sure you check the tightness periodically.
BUY THIS SAW!
Guess I'm crazy but I purchased a ASJMREYE mower and trimmer. Amazing products! So I've already got some of these awesome batteries. What the heck; I'll buy a chainsaw and see how it runs. Plenty of back-up batteries to get through one little oak.But today when I'd run through a tank felling and bucking up oak I thought I'd light up the ASJMREYE and give my wife a try. Well; bloody heck. I was cutting through 6" oak every bit. And when I finished the oak there had been no slowing of the cut. But in retrospect I know the ASJMREYE may have been a bit slower but would have felled this 12'' tree no prob. Oh; Susan did get a cut and was amazed that it sliced right through! And how SAFE it felt and how QUIET it runs!
If gas saws are intimidating this is awesome!!
So happy with this. We purchased a large amount of land (mountainous rocky, cedars and juniper pines) we are having to put up atound 5 miles of fence and have a ton of clearing to do for a right of way. I am mostly trimming and cutting up fallen trees and this is PERFECT!! its super easy for me because i suck at pull starting. I just push a button and I'm cutting away.
My husband at first was like seriously you bought a battery powered saw? What good will that do? And i have proved what it could do haha. He has a hard time admitting i was right haha but i saw him sneak it and try it out, and i havent heard any complaing about the "battery" saw anymore.
Outstanding saw!
This saw is outstanding.
On a single battery, I spent 30 minutes delimbing and bucking two tree boughs, and had half the charge level still available. With two batteries, I am confident one could easily saw wood for well over an hour, possibly two hours. This was the initial use of the saw. The saw had zero difficulty cutting through eight inch diameter sections, bucking them on the same level of speed and effort as a traditional gas operated chain saw.
Moreover, as was the case with all new chains, halfway through the bucking process I did check the tension on the chain and had to tighten it an eight of a turn. Again, the key thing is to first loosen the cover with at least a half a turn of that knob. You need enough slack on the cover to facilitate tightening the chain tensioner. Once you tighten the chain, you then tighten the cover. Follow that process, and you won't have any problem at all keeping the chain properly tightened.